Description
Compact single component spraying.
Single Component Pneumatic Airless Spray Unit mounted on 2 wheel cart unit.
Standard unit is 73:1 ratio and powered by a CoverCat 290 Air Motor.
Maximum fluid delivery 232cc/cycle 9.2ltr/min (2.5gpm) @40cycles.
Single Gun or Multiple Gun application of Pre-mixed Coatings.
The units are capable of spraying a wide range of materials of differing mix ratio's and viscosities where these are pre-mixed and possibly with added solvents.
Pump units have nitride hardened and hard chromed piston rods and sleeves for long life.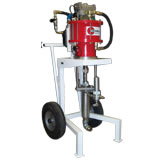 Applications
Small to Medium and Heavy Premixed Applications
General Fabrication and Construction
Tank Coating
Pipelining
Offshore
Maintenance
Features
Compact Portable System
Simple to Operate
Air Maintenance Kit
Paint Filtration
Operators manual & guidance notes